The structure of Maus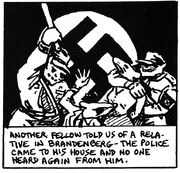 Art Spiegelman structures Maus in the most fascinating and way. Firstly, the format of the piece is in graphic novel form. This allows readers understand the story in a way that words may not be able to describe. To make the theme of the book perceived in a more blunt approach, Spiegleman portrays the Nazis' as cats and the Jews as mice, for that all-too-well known cat and mouse idiom. While this cat and mouse expression seems quite straight forward, it forces readers to leave any biased notions of humans. The graphic illustrations paired with the metaphor represented by "cat and mouse" is very effective and better portrayed as it is rather than in formal text. Any scenes where the illustrations start to spill out of the confined panels and boxes bring readers back into a the work in closer way. It transcends the reader deeper and make the particular scene stand out.It gives the delivers the story and the message in a new a refreshing taste that is clear and easy for readers.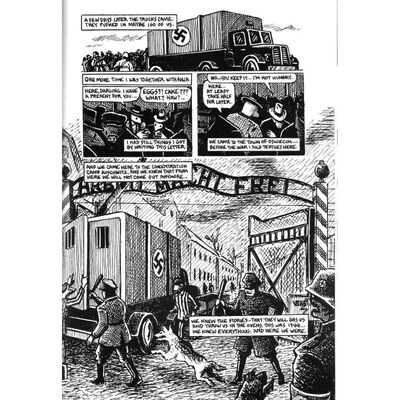 References
Art Spiegelman's MAUS: A Different Type of Holocaust Literature (Art Spiegelman's MAUS)
Edit
http://faculty.georgetown.edu/bassr/218/projects/oliver/MausbyAO.htm
Ad blocker interference detected!
Wikia is a free-to-use site that makes money from advertising. We have a modified experience for viewers using ad blockers

Wikia is not accessible if you've made further modifications. Remove the custom ad blocker rule(s) and the page will load as expected.