Welcome to Life Writing: Maus Wiki
Edit
This Wiki is a project on Maus for Life Writing class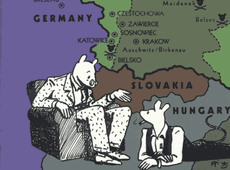 Maus is a story within a story, it's about how Art Spiegelman's father Vladek, experienced the Holocaust. While at the same time, shows the story of Spiegelman interaction with his father on numerous occasions to record his memories. It jumps to the past and present frequently, but interweaves the two effectively in comic book/graphic memoir format.
Author Biography Edit
Graphic Gemoir Analysis Edit
Technical Aspects Edit
Latest activity
Edit
Ad blocker interference detected!
Wikia is a free-to-use site that makes money from advertising. We have a modified experience for viewers using ad blockers

Wikia is not accessible if you've made further modifications. Remove the custom ad blocker rule(s) and the page will load as expected.